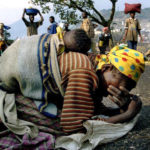 Tous les génocides sont confrontés à leur négation. Celui commis contre les Hutus du Rwanda par le FPR (Front Patriotique Rwandais) de Paul Kagame pendant plus d'une décennie à partir du début de l'année 1991 n'échappe pas à la règle.
Le génocide perpétré contre les Hutus a des caractéristiques communes à tous les génocides. C'est un crime contre l'humanité. Il en est de même de sa négation.
Source:
jambonews.net

157



LET'S REFLECT


Black America has become the epicenter of the coronavirus' worst effects: African Americans make up to 70% of coronavirus-related deaths in the US


By on Apr 12, 2020




304


RWANDA L'éloge du sang, par Judi Rever


By on Aug 17, 2020




354


Félicien Kabuga, 87 ans, le plus vieux détenu de France!


By on Jun 12, 2020




324


Le combat contre le transfert de Félicien Kabuga au MTPI


By on Jun 05, 2020




155


RWANDA L'histoire secrète, par Abdul Ruzibiza


By on May 31, 2020




399


Affaire Félicien Kabuga. Quand la justice internationale se met à l'épreuve!


By on May 28, 2020




52


Dix ans d'expertises devant le Tribunal Pénal International pour le Rwanda, par Bernard Lugan


By on Apr 07, 2020




84


Une conférence au Palais du Luxembourg à Paris sur le génocide rwandais


By on Mar 11, 2020




465


Exclusif - Rwanda : la vérité sur les massacres de l'Armée patriotique de Paul Kagame


By on Nov 07, 2019




37


Nothing can wash away the stain of our Kurdish betrayal


By on Oct 27, 2019




128


Rwanda : la négation du génocide commis contre les Hutus


By on Sep 01, 2019



Sign up for our newsletter
TOP
Rwanda : la négation du génocide commis contre les Hutus
Global Liberal Blog
©Apr, 2020 - Oct, 2021. gloliblo.com
All rights reserved.