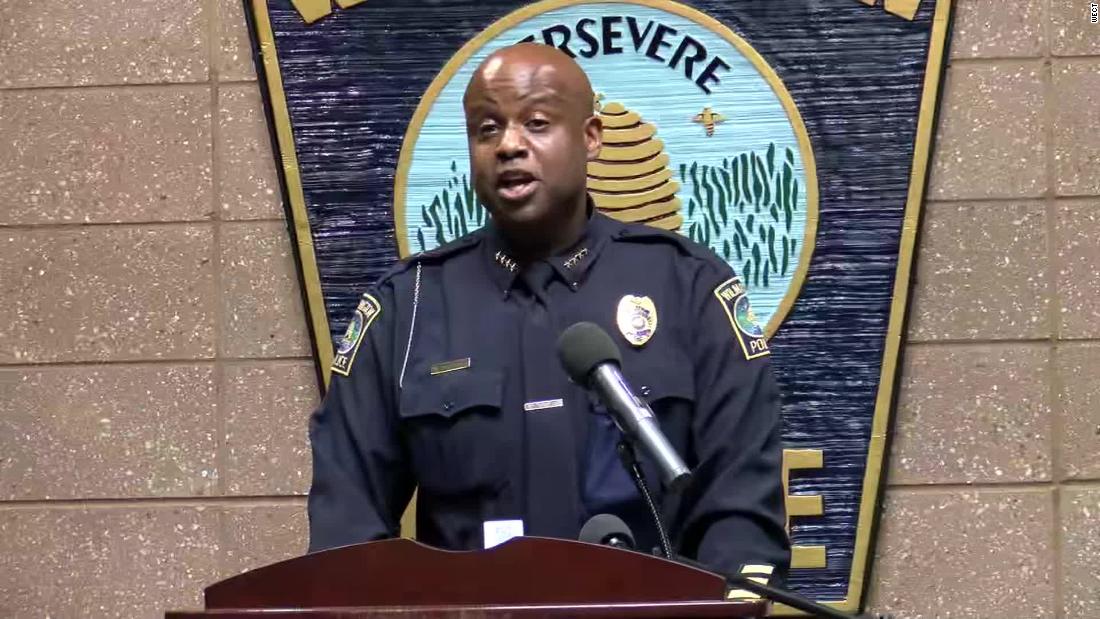 Three Wilmington, North Carolina, police officers have been fired after they were heard on video spewing "hate-filled speech" and referring "to Black people as the n-word," Police Chief Donny Williams said Wednesday.
Jessie Moore, Kevin Piner and James Gilmore, all three white and police officers in the city of Wilmington, North Carolina, were terminated after they were caught on camera making extremely hateful racist comments in the wake of protests that followed the killing of George Floyd by a white police officer in Minneapolis, Minnesota. Kevin Piner told Jessie Moore in the conversation that he felt a "civil war is coming" and he was "ready." "Society being close to 'martial law' and soon 'we are just gonna go out and start slaughtering them fucking niggers. I can't wait. God, I can't wait", Kevin Piner said in the camera footage that hasn't been yet released to the public while the city await a court ruling to make the footage public.
Source:
cnn.com

157



Too Much and Never Enough:


How My Family Created the World's Most Dangerous Man, by Mary L. Trump





308


Many Covid19 patients died of blood clots.


By on Aug 26, 2020




253


Religion, esclavage, colonisation et racisme


By on Aug 22, 2020




304


RWANDA L'éloge du sang, par Judi Rever


By on Aug 17, 2020




284


"We are the worst. We are the villains", parody song by Trump and his mob family


By on Aug 06, 2020




264


Congolese President Felix Tshisekedi reshuffles the army and the judiciary amid a political crisis


By on Jul 21, 2020




282


Derek Chauvin drew scrutiny long before the murder of George Floyd.


By on Jul 21, 2020




148


Les projets de loi Minaku et Sakata sont une attaque à la démocratie au Congo RDC


By on Jul 08, 2020




84


DRC Congo Covid-19 task force on strike over unpaid wages


By on Jul 06, 2020




206


The Fed reveals which companies make its corporate-bonds shopping list


By on Jul 05, 2020




193


Trump's calls with world leaders are so bad advisors consider him a high national security risk.


By on Jul 05, 2020




316


Donald Trump aka Benedict Donald is America's #1 traitor


By on Jul 05, 2020




258


Dr Denis Mukwege: No to the secession of North Kivu and the balkanization of Congo DRC


By on Jul 05, 2020




67


Un jeune Congolais se cache dans le réacteur d'un avion pour tenter d'aller en France


By on Jul 04, 2020




108


Trump accuses protesters who tear down statues of wanting to 'wipe out our history' in Fourth of July speech


By on Jul 04, 2020




306


Trump, don't blame others for your own failures!


By on Jul 01, 2020




281


All Power to the People. We gotta be treated equal.


By on Jun 30, 2020




206


'Absolute Robbery': Gilead Announces $3,120 Price Tag for Covid-19 Drug Developed With $70 Million in Taxpayer Support


By on Jun 29, 2020




261


While Russia is putting bounties on US soldiers, Trump is choosing to look the other way


By on Jun 29, 2020




56


Mississippi flag comes down after vote to remove Confederate emblem


By on Jun 29, 2020




165


Que la France enlève son genou du cou de l'Afrique


By on Jun 29, 2020



Sign up for our newsletter
TOP
Three police officers fired after they are caught using 'hate-filled speech,' chief says
Global Liberal Blog
©Apr, 2020 - Sep, 2022. gloliblo.com
All rights reserved.