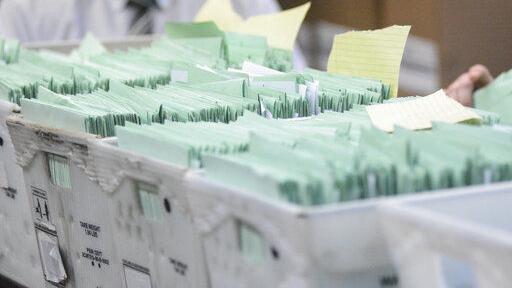 In a 4-3 decision, the court denied immediate review of the case, leaving the door open for Trump to file his challenge in lower courts.
Trump's presidency's silver lining is the creation of a massive uptick in the average citizen's participation in politics from the top to the bottom. He is the fork in the road and hopefully we choose the correct path forward. Right-wing conservatives teamed up with General Michael Flynn in spreading incendiary rumors that liberals were planning a violent coup against Trump and thus advocating for Trump to declare martial law and have the military oversee a new election. Conservatives have become all bonkers, and they are fantasizing about a civil war. They want to set the country on fire. This is why every election matters, even seemingly obscure ones. The Wisconsin Supreme Court is currently made of 4 conservatives and 3 liberals. This ruling was 4-3 with the majority comprised of the Court's 3 liberals plus a single conservative Justice. The ruling would've been 4-3 for Trump if not for liberal Justice Karofsky unseating conservative Justice Dan Kelly in the mid-pandemic April 2020 judicial election, where the then 5-2 conservative Wisconsin Supreme Court intervened to rig the vote in incumbent Kelly's favor, leaving deep blue Milwaukee residents with only 5 polling places to vote at. In the middle of a pandemic. America is on the edge of the abyss and Americans need to wake up and participate in politics by voting. It's a civic duty that bears an incalculable responsibility. Maybe it should be mandatory to vote in the United States. In Australia, if you don't vote, you should be fined.
Source:
madison.com

157



Too Much and Never Enough:


How My Family Created the World's Most Dangerous Man, by Mary L. Trump





87


DRC MPs brawl again as president nears power struggle win


By on Dec 11, 2020




58


Globe investigation: The Ford family's history with drug dealing


By on Dec 07, 2020




316


Wisconsin Supreme Court declines to take up Trump lawsuit challenging election results


By on Dec 04, 2020




86


Family employed by provincial government of Ontario perpetrated $11M COVID benefit fraud, according to civil claim


By on Nov 27, 2020




258


Trump: The greatest conman in American history


By on Nov 15, 2020




267


'Welcome back America!': Europe reacts to Biden winning US election


By on Nov 08, 2020




285


Nana Mouskouri chante la vie dure des esclaves dans sa chanson "Mississippi blues"


By on Oct 12, 2020




275


WTO rules against Trump's trade war


By on Sep 20, 2020




352


The Republicans all knew Trump was a lying narcissistic religious bigot


By on Sep 02, 2020




275


US mayors back bill of reparations for slavery to slave descendants.


By on Aug 27, 2020




308


Many Covid19 patients died of blood clots.


By on Aug 26, 2020




253


Religion, esclavage, colonisation et racisme


By on Aug 22, 2020




304


RWANDA L'éloge du sang, par Judi Rever


By on Aug 17, 2020




284


"We are the worst. We are the villains", parody song by Trump and his mob family


By on Aug 06, 2020




264


Congolese President Felix Tshisekedi reshuffles the army and the judiciary amid a political crisis


By on Jul 21, 2020




282


Derek Chauvin drew scrutiny long before the murder of George Floyd.


By on Jul 21, 2020




148


Les projets de loi Minaku et Sakata sont une attaque à la démocratie au Congo RDC


By on Jul 08, 2020




84


DRC Congo Covid-19 task force on strike over unpaid wages


By on Jul 06, 2020




206


The Fed reveals which companies make its corporate-bonds shopping list


By on Jul 05, 2020




193


Trump's calls with world leaders are so bad advisors consider him a high national security risk.


By on Jul 05, 2020



Sign up for our newsletter
TOP
Wisconsin Supreme Court declines to take up Trump lawsuit challenging election results
Global Liberal Blog
©Apr, 2020 - Jun, 2021. gloliblo.com
All rights reserved.